The device IdeaPad Yoga will be offered in two basic models: touch screen size 11.6 and 13.3, respectively.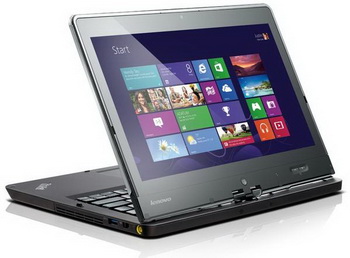 Junior model with 11-inch screen, which is typical, will be based on a processor with ARM-architecture, so will run on Windows RT.  The screen will support a resolution of 1366 x 768 pixels and support multi-touch .  The amount of memory reaches 2GB, SSD drives will be up to 64 GB.  There are USB 2.0 port and card reader memory.   weight with 15.5 mm thickness will be 1.27 kg.  On sale this tablet will come in December for $ 799.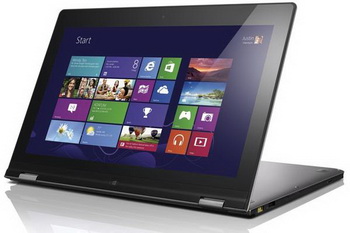 IdeaPad Yoga 13 runs on Windows 8, equipped with Core i5 or Core i7 processor ( Ivy Bridge), RAM up to 8 GB and a solid state drive - 256 GB.  Screen resolution is 1600 x 900 pixels. Front camera has a resolution of 720p. It has a port USB 2.0, USB 3.0, HDMI and a slot for memory cards. Case thickness is 17 mm, weight of the device reaches 1.54 kg. Runtime can reach seven hours. tablet will go on sale later this month at a price of $ 1,099.
In addition, to business users Lenovo addresses ThinkPad Edge Twist .  This is a laptop with 12.5-inch touch screen with IPS-protective glass Gorilla Glass based on processors Core i5 or Core i7, it can be equipped with 8 GB of RAM, a solid state drive or 128 GB hard drive, a classic 320 or 500 GB with a speed 7200 r / min.  There are two ports USB 3.0, mini-HDMI output and mini-DisplayPort, full-port Ethernet and a card reader device.  The laptop can work with TPM and additionally equipped with 3G-modem.  The thickness of the case is 20 mm and mass reaches 1.57 kg.  The laptop will be available immediately after the announcement of Windows 8, the prices will start at $ 849.


Related Products :