As is known,   K | ngp | n Cooling company with the assistance of an engineer Ilya Tsemenko EVGA brings to mind a system of automatic feeding of liquid nitrogen during extreme overclocking CPUs and graphics cards.  However, the exhibit that was shown at Computex 2016, leaving a feeling of early prototype: for the supply of liquid nitrogen hoses were stuffed into conventional open tanks, enshrined in the cooling components and the control panel has been assembled in a suitable size tin box.
Resource Overclocking TV showed another development, having a similar purpose.  The company L & L Cooling demonstrated at the US event prototype OCC-X Dual system, which can automatically apply the liquid nitrogen to the CPU and GPU, respectively.  The number of graphics processors can vary as the system involves a modular layout.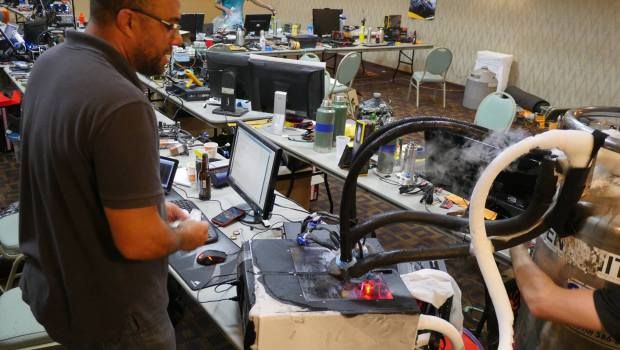 Unlike  K | ngp | n Cooling solutions, this system uses sealed modules in contact with the cooled components.  Liquid nitrogen is supplied and discharged through the pipeline, provided a safety valve to relieve excess pressure.  The concept of operation of the system involves the use of a sealed system case, from which moist air is forcibly evacuated.  According to the developers, it avoids the formation of condensation inside the system unit.  However, outside  the condensate is produced and inevitably turns into frost .
Manage system and temperature control is possible by means of a special application - including,  installed on the tablet PC.

On the market prospects of this product is too early to say.  However, the "regulars nitrogen parties" it will allow more efficient use of liquid nitrogen, especially in the case of multiple simultaneous graphics card overclocking.  Someday, such a system would justify the costs of purchase, even if it cost a few thousand dollars.


Related Products :