In September 2006, INTEL updated its mobile platform Centrino by equipping it for the first time with its successful processor
, Core 2 Duo. Six months later, Santa-Clara platform was updated with Santa-Rosa code. INTEL proposes a slightly improved processor, new a chipset, a new Wi-Fi module with various small improvements .

Small evolutions on processor side

For its new platform Centrino Duo, INTEL use carefully the mobile version of its dual core processor Core 2 Duo.INTEL engineers made some improvements and increased the bus system frequency . We passes from 667 MHz for Core 2 Duo in Napa platforms to 800 MHz for Core 2 Duo in Santa-Rosa platforms. This improvement has a direct impact on the theoretical band-width between the chipset and processor, band-width which passes from 5,3 GB/S with Napa to 6,4 GB/S in the new platform.

Always made on 65nm with 4 MB memory in the second level , Core 2 Duo in Santa-Rosa was updated to a new stepping (E1 Revision). INTEL proposes in particular Dynamic FSB Switching, a function which aims at lowering the processor voltage and bus frequency in the new state called superLFM. In short, the notebook remains active while being able to lower its consumption under certain conditions (reading DVD or reading music for example) to increase the battery life. According to INTEL, the processor operation frequency go down to the minimum of 800 MHz . INTEL proposes the mode Deeper Sleep Enhanced, a mode of advanced inactive state where the chipset and processor are put not under tension, always to prolong the battery life.

The last update introduced by Santa-Rosa on processor level comes from INTEL Dynamic Accelerator. It is a question here of optimizing the performances of processor when only one of two core is requested with its maximum. Concretely, INTEL Dynamic Accelerator acts on the multiplying coefficient of processor while making pass this one to the higher unit. Thus one core gains 200 MHz . The benefit of INTEL Dynamic Accelerator will be naturally seen in single threaded applications, since it starts only when the second core is in an inactive operating condition state C3.


Technology INTEL Dynamic Accelerator
Physically, new Merom Santa-Rosa always count 291 million transistors whereas they are presented at the format PGA479. The chipset 945 in Napa systems do not support the new processors. TDP Level (processor thermal envelope) was kept at 34 Watts for the most powerful processors Core 2 Duo. INTEL proposes as a high end processor Core 2 Duo T7700, this is the fastest at the moment with 2,4 GHz operation frequency .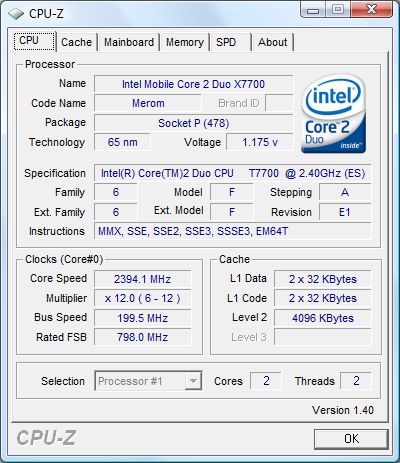 INTEL Core 2 Duo T7700 seen by CPU-Z
INTEL propose support to EM64T, in other words 64 bits compatibility, as well as instructions SSE3 , SSSE3 and VT Technology .


INTEL Centrino Pro
With Santa-Rosa, INTEL introduced for the very first time a new version of its Centrino platform : Centrino Pro. Whereas the portables Centrino Duo continue to be intended for general public, the portables Centrino Pro logically aim for professional users . INTEL adds for Centrino Pro a fourth element: a telegraphic network chip , 82566MM component . This last has two energy saving technologies with ACBS technology which cuts off the supply automatically when the Ethernet cable is disconnected whereas AC/cd. Link Step modulates the flow of telegraphic connection according to the mode of power supply .

The various tools proposed by INTEL allow system administrator to remotely control the notebook hardware configuration but also the software environment. Among technology AMT functions (Activates Technology Management), INTEL allow to remotely start a portable computer connected to a telegraphic network or wireless network .
New chipset: INTEL 965 Express
Santa-Clara has benefited from a new platform Centrino Duo with the new chipset 965, this last is already available for several months on our desktop PC. Adapted to portable computers, the 965 Express mobile version is compatible with 800 MHz bus system , and support new technology INTEL Dynamic Accelerator described above. Vs chipset 945, the 965 Express s characterized by the improved support to Serial-ATA and by the number USB 2.0 ports ( thanks to its south bridge ICH8M ) . INTEL announces the support to 10 ports USB 2.0, 3 ports Serial-ATA 3.0 Gbps whereas the chipset offers a total of six line 1x PCI-Express for expansion cards. Supported RAID modes are : RAID 0, RAID 1 .
In addition to these improvements, 965 Express chipset allowed INTEL to propose a new graphic core : GMA X3100. This graphic chip work at 500 MHz, the same graphic core has equipped for a few months the G965 chipsets dedicated to office computers. GMA X3100 is DirectX 9.0 compatible witch allow INTEL to deal with graphic interface Aero Windows Vista. The GMA X3100 in addition integrates technology INTEL Clear Video similar to AVIVO and PureVideo from AMD and NVIDIA.
INTEL Turbo Memory Technology
The new notebook generation using Santa-Rosa platform support the technology INTEL Turbo Memory. According to choice\'s of notebook computer , user will get 512 MB or 1 GB memory flash NAND. Known in the past under the name Robson , this technology is used to activate the Ready Boost functions and Ready Drive suitable only for operating system: Windows Vista.

Ready Drive technology is used to accelerate the loading times of operating system .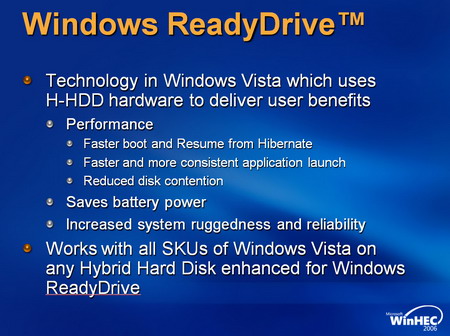 Ready Drive technology explained by Microsoft
INTEL communicates , a twice faster loadings for software and 20% faster start up . Always according to the figures communicated by INTEL, INTEL Turbo Memory would also allow to reduce the electric consumption of system . Let us note that INTEL Turbo Memory 512 MB gives access only to Ready Drive technology, and 1GB module offer simultaneously the functions Ready Drive and Readyhost.

We measured the time necessary to start Windows Vista, lunching office with and without Turbo Memory. But we found that the deactivation of turbo memory save 2 second !!!! . We repeated the operation several times but the result was the same : Turbo Memory does not offer for the moment any profit to our VX2S … Maybe this bios or driver error ....
Wi-Fi !!!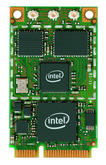 As with each new generation of Centrino platform, INTEL update the component used . With Santa-Rosa platform, INTEL introduces the module Wireless WiFi Link 4965AGN presented at the format PCI-Express 1x. The circuit Wireless WiFi Link 4965AGN supports at the same time the frequency 2,4 and 5 GHz what guarantees compatibility with networks i802.11a, i802.11b, i802.11g and i802.11n. Like the large equipment suppliers networks, INTEL did not wish to await for the finalization of specifications for protocol i802.11n and propose a circuit witch performances are higher than the old i802.11g.

During our tests, we could check the correct operation of module 4965AGN with our Freebox HD, which uses for memory technology MIMO. With Santa-Rosa notebook, provided with circuit Wireless WiFi Link 4965AGN, it took us 2 minutes and 31 seconds to transfer from a PC though the network a 261 MB file . The same operation with a notebook from preceding generation and equipped with circuit INTEL PRO/Wireless 3945 is executed in 3 minutes and 10 seconds.
Asus Lamborghini VX2S

Asus once again is first to release system equipped with platform Santa-Rosa and compatible with Centrino Pro. The Weigh of this notebook is a little more than 3 kilograms, the VX2S obtains a brilliant screen WXGA+ 15,4 inches offering a resolution 1680x1050. Asus Lamborghini VX2S has a directional web cam 1.3 MP as well as an integrated microphone.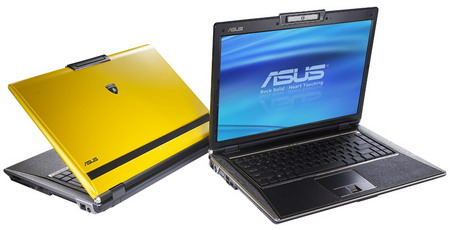 Asus Lamborghini VX2S
The keyboard is surmounted with various shortcut keys and some operation diodes . Asus proposes buttons dedicated to change the power mode or to activate Blue tooth and Wi-Fi.
The VX2S offers in addition to the optical unit, two ports USB 2.0, a connector HDMI, a connector VGA DVB-15, a connector RJ45 as well as an analogical video out. On the other end, Asus proposes a port USB 2.0, a connector minis-FireWire, a useful connector RJ11 for integrated modem, a power connector as well as audio out in addition to the integrated memory card reader . This last is compatible in particular with Memory Stick, MMC and Secure DIGITAL. In addition, Asus proposes even a connector e-SATA as well as Express Card ! . The VX2S are very easily accessible since hard disk is extractable, just like optical reader.
Technically, the VX2S contains INTEL Core 2 Duo T7700 processor working at 2,4 GHz . The portable is equipped with chipset INTEL 965 Express and 2 GB memory DDR2-667. The hard disk used here is Hitachi model with 5400 RPM ,Serial-ATA and 160 GB capacity. . Graphic side, Asus retains a module MXM animated by GeForce 8600M GT and provided with 512 MB video memory. Let us finish by specifying that the battery is a model 8 cells 5200mAh.
In order to test the performances of Santa-Rosa platform, we used two distinct portable computers. The first was the new Asus VX2S on which we used a new processors INTEL Core 2 Duo T7500 (2,2 GHz) and T7700 (2,4 GHz). We also used the traditional VX2 model , equipped with the Napa platform and provided with processor Core 2 Duo T7400 (2,16 GHz). in addition we use components close to the two portables whose detailed configuration appears below:

Processors INTEL Core Duo T7500 and T7700,
2x1 GB DDR2 667,
Graphics card NVIDIA GeForce 8600M GT,
Hard disk Hitachi 160 GB Serial-ATA 5400 rpm
Asus VX2,
Processors INTEL Core Duo T7400,
2x1 GB DDR2 667,
Graphics card NVIDIA GeForce Go 7700 GT,
Hard disk Hitachi 160 GB Serial-ATA 5400 rpm
Our two notebook were provided with the last drivers available and functioned under Windows Vista . we will oppose our portables to a system with identical configuration:

Mother Board Asus P5B Deluxe,
Processor INTEL Core 2 Duo E6600 (2,4 GHz),
2x1 GB Corsair DDR2800 Twin2X6400C3,
Graphics card NVIDIA GeForce 7900 GS,
Hard disk Raptor 150 GB Serial-ATA 150
Cinebench 9.5

We starts our tests with Cinebench 9.5, a software which render a 3D scene to evaluate the performances of the given systems. We finds at the first place E6600 Core 2 Duo , at the same frequency as Core 2 Duo T7700, working at 2,4 GHz, this last is 2% faster . It is interesting to note that Core 2 Duo T7500 ( Santa-Rosa ) is 7% faster than its Napa predecessor, Core 2 Duo T7400 practically working at the same frequency.


PCMark05 - Processor Test

IN PCMark 05 processor test our Core 2 Duo E6600 and Core 2 Duo T7700 are in equality. At equal frequency, the processors are characterized by different bus frequency : 800 MHz for Core 2 Duo T7700 against 1066 MHz for Core 2 Duo E6600. This difference does not seem to influence PCMark 05. We notes on the other hand the advantage ( 5% faster ) of Core 2 Duo T7500 which practically work at the same frequency as the preceding generation model, T7400.


PCMark05 - Memory Test

Always under PCMark 05, We passes to the memory test . This one is surprising since the score of our Core 2 Duo E6600, proves to be lower than that of our three notebook processors . At the first place we have the Core 2 Duo T7700 whereas the T7500 version show 5% higher performances than Core 2 Duo T7400. We note that preceding model has only 667 MHz system bus and they deprived from certain optimizations like INTEL Dynamic Accelerator.


ScienceMark 2.0 - Primordia

ScienceMark Mathematical software, evaluates the performances of our various processors according to their speed to complete certain calculations. At the first place we finds Core 2 Duo E6600 with in perfect equality with Core 2 Duo T7700 given working at the same frequency 2,4 GHz. Comparatively, Core 2 Duo T7500 Santa-Rosa generation is 3% faster than its predecessor, T7400 Napa generation.


Mathematica 5.1

In Mathematica , we have Core 2 Duo E6600 at the head, followed by Core 2 Duo T7700 which is used in our Asus VX2S . Here Core 2 Duo T7500 is 4% faster than the T7400 model for an almost identical frequency

Compression Test - WinRAR 3.60

Our compression test consists in measuring the time necessary for each system in order to compress 650 MB data. Attention, the results are expressed in seconds; the lower is better. Here our desktop processor , is largely at the head. There is no major difference between Core 2 Duo T7400 and T7500, but here Core 2 Duo T7700 make 29 seconds less than Core 2 Duo T7400: a quite good profit!


Video encoding Test - TMPGenc 4.2.3.193 Xpress

TMPGenc video encoding software has the advantage of offering optimizations for the last processors generations Core 2 Duo . It supports extensions SSE3 and SSSE3, The test consists in measuring the time necessary to encode in MPEG2 an AVI FD video : the results are indicated in seconds. At the head, we find Core 2 Duo E6600 which execute the compression 13 seconds faster than Core 2 Duo T7700 in our Asus VX2S. One observes an interesting profit between Core 2 Duo T7400 and T7500, This last being 24 seconds faster than T7400 Napa generation.


Sandra Xi - SP1 - Processor Test
Here Core 2 Duo E6600 and T7700 are also in perfect equality . according to Sandra, Core 2 Duo T7700 is 10% faster than the T7500 model.
Sandra Xi - SP1 - Memory Test

As in PCmark 2005 , Core 2 Duo E6600 is largely at the head. We notes about 10% higher prformance for our T7500 over Core 2 Duo T7400,
INTEL continues to update it mobile platform preserving a large superiority over AMD. the new Santa-Rosa platform has considerable new technologie. Core 2 Duo Merom, obtains a faster system bus and various improvements aiming at saving energy. The arrival of dynamic acceleration technology is rather interesting, in particular for single-thread applications. The new Core 2 Duo T7700 offers a very appreciable profit over Core 2 Duo T7400 . Lastly, in 2008, Santa-Rosa platform will get the first 45nm processors dedicated to mobile world.