By :hardware review
Posted:2006-05-26






xtreview is your : Video card - cpu - memory - Hard drive - power supply unit source







intel pentium D 820 review overclock benchmark -overclocking d820
Today we would like to talk about the most inexpensive dual-core processor – the Pentium D working at 2.8GHz. It is currently selling for $241 so it can become a great solution for mainstream systems. Read more in our review now!
Look at Pentium D 820
Pentium D 820 processor is the youngest dual-core CPU from Intel based on the Smithfield core. This CPU is none other but a combination of two Prescott dies within a single piece of silicon.
It works at 2.8GHz clock frequency and has no Hyper-Threading Technology support. The detailed formal characteristics of this solution are given in the table below:
Pentium D 820

Frequency

2.80 GHz

Package

775-pin PLGA

Vcore

1.25V-1.4V

Bus frequency

800 MHz

Typical heat dissipation

95W

Core stepping

A0

Max. typical case temperature

69.8В°C

L2 cache size

1MB+1MB

Production technology

90 nm

Hyper-Threading Technology support

No

Intel Extended Memory 64 Technology (EM64T) support

Yes

Execute Disable Bit Feature (NX) support

Yes

Enhanced Intel SpeedStep (EIST) support

No
I would like to draw your attention right away to a few curious things that you can see in the specification.
Firstly, Pentium D 820 processor does not support Intel Enhanced SpeedStep technology, which is available in all other dual-core processors on Smithfield core. The reason for this is the clock frequency multiplier, which equals 14x for this CPU. It is the minimum clock frequency multiplier for all processors based on modifications of Prescott core. For the same reason, Pentium D 820 does not support such technologies as C1E (Enhanced Halt State) Technology and TM2 (Thermal Monitor 2) Technology, which also require dynamic change of the CPU clock frequency multiplier.
Secondly, the low TDP level of the Pentium D 820 processor is also quite remarkable here. All other Pentium D CPUs and Pentium Extreme Edition 840 feature the thermal design power of 130W. Moreover, this characteristic of the Pentium D 820 processor is even lower than that of the top single-core Pentium 4 solutions: their TDP equals 115W. This gives us some hope that Pentium D 820 will turn out not so hot as the previously reviewed Pentium Extreme Edition 840 and will allow using pretty simply cooling solutions. Besides, relatively low heat dissipation and power consumption of the Pentium D 820 processor should make it possible for this processor to work just fine in mainboards without "enforced" CPU voltage regulator.
Other than that, Pentium D 820 doesn't boast anything else different from its elder brothers.
CPU-Z utility provided the following info about this processor:
The operating system sees this CPU as two processors, which is actually not surprising at all, because it has two physical cores and doesn't support "virtual multi-core architecture", i.e. the Hyper-Threading Technology.
intel pentium d 820 Power Consumption
We couldn't disregard testing the power consumption of the Pentium D 820 processor, of course. It was the low TDP Intel set for this processor that stimulated our interest to this parameter. If the power consumption (and, consequently, the heat dissipation) of this CPU is not that high, it will be even more attractive for the users.
The diagrams below show the results of power consumption measurements for the Pentium D 820, Pentium 4 and Athlon 64 CPUs offered at the same price point today. We used the special S&M utility to load the CPUs to their maximum for a more illustrative picture. You can download this utility here.
Since Pentium 4 processors participating in this test support C1E technology, their working frequency drops down to 2.8GHz in idle mode. That is why the dual-core Pentium D 820 processor working at the same frequency under any workload consumes a little bit more power than its single-core fellows. However, the power consumption of the Pentium D 820 processor in idle mode is just a little bit higher than that of the Pentium 4.
As for Athlon 64, it is a few times less power-hungry here. And the remarkable thing is that we tested it with Cool'n'Quiet disabled!
Even under the maximum workload Athlon 64 CPUs (we tested those on Venice core) also boast considerably lower power consumption. You may consider it funny but the Athlon 64 processors under maximum workload consume about the same amount of power as the Pentium 4 processors in idle mode. This is something to think about, don't you agree?
As for the power consumption of our today's hero, Pentium D 820, it eats up about the same amount of power as the Pentium 4 processors from the same price group working at 3.0-3.4GHz. By the way, these processors' TDP is set at 84W, so it looks like Intel set the 95W barrier for its Pentium D 820 just in case.
intel pentium d 820 Overclocking
We haven't yet undertaken any overclocking experiments for dual-core CPUs. Nevertheless, we couldn't leave out this exciting aspect, because there will definitely be enthusiasts among you who would wish to squeeze even more speed from their dual-core processors. Especially, the youngest processor model of the Pentium D family is simply calling for an overclocker: it just has to overclock at least up to the level of the top processor in this product line, which works at 3.2GHz. Moreover, keeping in mind that Smithfield is a combination of two Prescott cores of E0 stepping on a single semiconductor die, we can expect even more fruitful overclocking: the latest CPUs based on Prescott and Prescott-2M core proved easily overclockable beyond 4GHz bar. However, dual-core processors should have more specific and sophisticated overclocking procedures than their single-core fellows. The main problem will inevitably lie with their high heat dissipation. All in all, we couldn't help carrying out a few practical experiments.
For our Pentium D 820 overclocking experiments we assembled a platform on ASUS i955X based P5WD2 Premium mainboard. The cooling was provided by a pretty efficient Zalman CNPS7700Cu cooler. During overclocking we didn't increase the processor Vcore. The CPU was overclocked by raising the FSB frequency: the clock multiplier of the Pentium D 820 processor is locked just like by Intel's single-core solutions. The PCI Express and PCI bus frequencies were fixed at the nominal values. The memory frequency was reduced a little bit so that the Corsair CM2X512A-5400UL memory modules didn't turn into a bottleneck during overclocking.
The actual overclocking of Pentium D 820 processor started quite unexpectedly. We managed to raise the FSB frequency tThe system started and booted-up normally at this speed and allowed running all sorts of small utilities (including single-threaded ones) without any problems. However, when we took a closer look at the system functioning in these conditions, we saw that it could not provide fully-fledged functionality in this case. The Zalman CNPS7700Cu cooler couldn't cope with its task when the CPU got loaded heavily.o 250MHz in no time and without any special effort. This brought the CPU clock rate up to 3.5GHz.
The temperature kept growing and the CPU would shut down. Since Zalman CNPS7700Cu is a pretty powerful air cooler, the conclusion we can draw here is not very optimistic. You need an extremely efficient cooling solution, a water-cooling system, for instance, if you intend to try overclocking your dual-core processor. We still decided it would be interesting to find out what is the maximum frequency our processor can work at stably with the air cooler, because this type of cooling is currently used in most computer systems. We reduced the FSB frequency to 240MHz and continued out stability tests. The CPU was working at 3360MHz in this case.
The results obtained in this case turned out even more interesting. The thing is that the system remained stable, the CPU temperature stayed within the acceptable range, and all major tests would run smoothly. However, when we started a benchmark supporting multi-threading, some weird things began happening. The results appeared suspiciously low in this case. When we launched two independent copies of a single-threaded application (we used WinRAR archiving utility), we managed to reveal a very interesting effect: Pentium D cores can get into thermal throttling independently. In other words, the first core continued working at its normal speed, while the second core started missing clocks losing its speed tremendously. The strange thing is however, that the temperature still remained within acceptable range of 75-78oC.
Testbed and Methods
As we have promised in the beginning of this article, Pentium D 820 will compete in our performance tests against other processors offered at the same price point. Among them are AMD Athlon 64 3200+ and 3500+, Intel Pentium 4 540 and 550 and Pentium 4 630 and 640, which are priced between $200 and $270. This test session will allow us to conclude whether it would be a good idea to base your platform particularly on the Pentium D 820 CPU.
Our platforms were assembled with the following components:
CPUs:

AMD Athlon 64 3500+ (Socket 939, 2.2GHz, 512KB L2, E3 core revision aka Venice);
AMD Athlon 64 3200+ (Socket 939, 2.0GHz, 512KB L2, E3 core revision aka Venice);
Intel Pentium D 820 (LGA775, 2.8GHz, 2 x 1MB L2);
Intel Pentium 4 640 (LGA775, 3.2GHz, 2MB L2);
Intel Pentium 4 630 (LGA775, 3.0GHz, 2MB L2);
Intel Pentium 4 570 (LGA775, 3.4GHz, 1MB L2);
Intel Pentium 4 570 (LGA775, 3.2GHz, 1MB L2).

Mainboards:

ASUS P5WD2 Premium (LGA775, Intel 955X);
DFI NF4 Ultra-D (Socket 939, NVIDIA nForce4 Ultra).

Memory:

1024MB DDR400 SDRAM (Corsair CMX512-3200XLPRO, 2 x 512MB, 2-2-2-10);
1024MB DDR2-667 SDRAM (Corsair CM2X512A-5400UL, 2 x 512MB, 4-4-4-14).

PowerColor RADEON X800 XT (PCI-E x16) graphics card.
Maxtor MaXLine III 250GB (SATA150) HDD.
Microsoft Windows XP SP2 OS.
Performance in Office Applications
Bussiness winstone 2004 d 820 benchmark
The results of Pentium D 820 tests in signle-threaded office applications are pretty logical: dual-core CPU is slower than its single-core fellows with higher clock frequency.
Performance in PCMark04, 3Dmark 2001 SE and 3Dmark05 benchmark
pcmark 2004 d 820 benchmark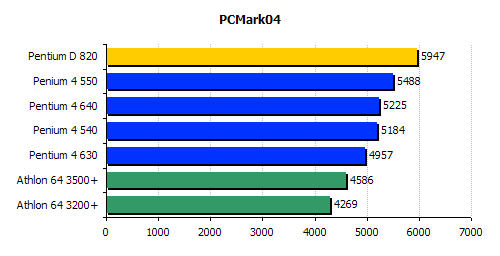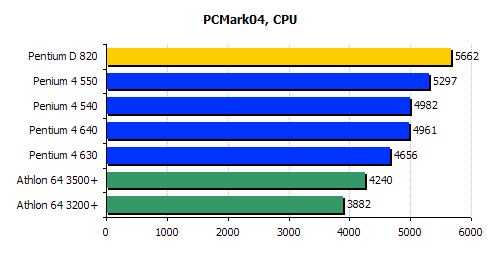 PCMark04 benchmark does support multi-threading therefore Pentium D 820 looks very attractive here.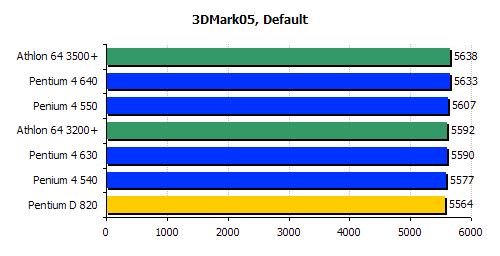 Unfortunately, we can't say the same about 3Dmark benchmark family, because they do not use the second processor core, just like most contemporary game
However, 3Dmark05 has two purely processor tests working in two threads: one of them emulates the shaders and another one calculates the physical environment model. In this case Pentium D 820 proves very impressive, yielding to Athlon 64 3500+ only once. Note that none of the Pentium 4 processors from the same price range can compete with Pentium D 820 here.
Performance in Games d 820 gaming benchmark
The situation with gaming applications has long been quite clear. The developers of this software use only single-thread algorithms, that is why dual-core processors cannot provide any benefits in games. And it looks like will not for quite a long time.
d 820 Performance during Data Compression
Pentium D 820 showed pretty low results in WinRAR, because this archiving utility uses only one core of the dual-core processor. So, relatively low clock frequency of only 2.8GHz prevented it from competing successfully with pentium 4 CPUs working at 3.0-3.4GHz and Athlon 64 processors boasting very efficient low latency memory subsystem.
Performance during Audio and Video Encoding
During audio and video encoding with different codecs, Pentium D 820 processor demonstrated pretty good results. It proved faster than Athlon 64 processors of the same price in all tests, and in LAME, Windows media Encoder and DivX it also outperformed single-core Pentium 4 CPUs.
Performance during Image and Video Editing
Professional Adobe applications for image editing and video editing/processing are well optimized for multi-processor systems. That is why Pentium D 820 performed so well here.
Performance during 3D Rendering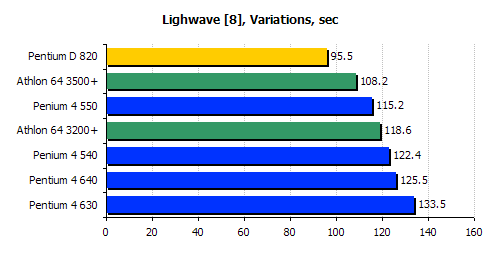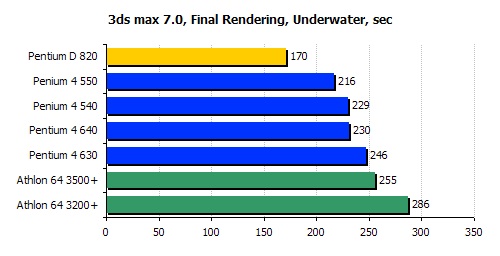 Pentium D 820 is an indisputable winner in 3D rendering tasks. No wonder: this type of algorithms can be easily split into a few parallel threads.
Conclusion
In this review we tried to compare the processors from the mainstream pricing segment of the today's CPU market. The situation here changed when Intel announced its dual-core Pentium D processors. The lowest model in this family working at 2.8GHz costs $241, and hence is qualified formally for use in typical mainstream computer systems. So now the users can choose not only between Athlon 64 and Pentium 4. Among the candidates for this position we now also have Intel Pentium D 820, which performance we have just compared against that of the other solutions falling into the $200-$300 range.
According to our tests, the launch of an inexpensive Intel processor can seriously affect the users' preferences. Pentium D 820 appears faster than its single-core rivals in a pretty big number of test applications. Although this is mostly true for Pentium 4. Athlon 64 solutions retain their leadership in those tasks where they have been the best. But in many applications where the winner's laurels used to belong to Pentium 4 CPUs, we now see Pentium D 820 raising the performance bar even higher.
So, with all certainty, we can recommend using the new Pentium D processors for multi-threaded environments and applications optimized for multi-processor systems. In this type of tasks, the new Intel dual-core CPU can show the best results. If you consider yourself a gamer or if you rarely use multi-threaded applications, you should still go for your ideal choice: Athlon 64.
As for the Pentium 4 processors, they sometimes appear faster than the dual-core Pentium D, but only in those tasks where the absolute leadership is already taken by Athlon 64. However, you should also keep in mind a few negative things about the new Pentium D 820. This is primarily the need to buy a new mainboard for it. Unfortunately, Intel's dual-core newcomer is compatible only with new mainboards on i955/i945 chipsets. And these boards are still not so widely spread and cost quite a bit of money. So, it would be a way too early to cross out the good old Pentium 4, which doesn't suffer from any compatibility issues






xtreview is your : Video card - cpu - memory - Hard drive - power supply unit source







we would be happy to answer for your question . if you have suggestion or comment regarding this review our support would be glad to help just join our forum and ask u will get the best answer
to discuss check our forum section :-)
RATE THIS REVIEW