South Korean company Samsung is preparing to release a new mobile processor Exynos 8895. Exynos 8895, like Qualcomm Snapdragon 835, is built on a 10-nanometer process technology Samsung, and in terms of performance is not inferior to it.  This is clearly demonstrated by the results of the test in Geekbench.
In the benchmark Geekbench tested a new flagship Samsung smartphone with the model number SM-G955F.  It is based on the Exynos 8895 processor with 4 GB of RAM and runs under the mobile operating system Android 7.0 Nougat.  In the test of one core smartphone scored 1978 points, and in the multi-core mode its result was 6375 points.  In the single-core test, the Exynos 8895 lost to Qualcomm Snapdragon 835, the result of which is equal to 2004 points, and in the multinuclear test it surpassed 6374 points against 6233 points.
But in comparison with Kirin 960 it turned out the opposite - in the test of one core Exynos 8895 was more productive, and in the multi-core mode, on the contrary, lost.  The result of the smartphone based on the Kirin 960 with 6 GB of RAM was 1929 points in a single-core test and 6416 points multi-core.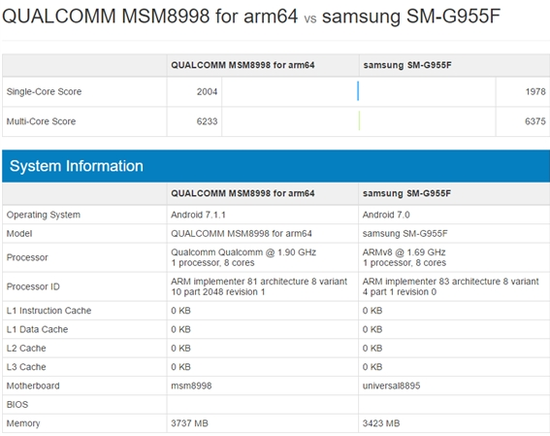 As noted by our colleagues from GizmoChina , the performance of  Exynos 8895 grew by 27% compared to  predecessor, and the power consumption decreased by 40%.  The new single-chip platform includes an eight-core processor and a Mali-G71 MP20 graphics accelerator.


Related Products :