Reviews of video cards AMD Radeon Vega Frontier Edition is becoming more and more, due to this, it becomes clear more details about the work of this novelty.  Our colleagues from PC Gamer Hardware not only conducted a detailed testing of the performance of the novelty, but also found out the real power consumption under various conditions, and also checked with what voltages the graphics processor can work.
So, without making changes to the settings of the Radeon WattMan utility, that is, out of the box, the graphics processor of the Radeon Vega Frontier Edition (air-cooled version) works with the following frequencies and their corresponding voltages:
1600 MHz and 1200 mV - peak frequency value, short-term infrequent jumps under load;
1528 MHz and 1150 mV - with this frequency the GPU usually works for a few seconds;
1440 MHz and 1100 mV - the most common frequency at full load (Boost-frequency);
1348 MHz and 1050 mV is also a frequently occurring frequency under load;
1269 MHz and 1000 mV - the lowest recorded frequency under load;
1137 MHz and 950 mV - the penultimate level of the Boost frequency, not used in the test;
992 MHz and 900 mV - the lowest Boost-frequency.
Still our colleagues have found out, with what minimum voltage the graphic processor on the raised frequencies in manual overclock can work.  To start, the graphics card successfully passed all tests at 1600 MHz at 1.1 V instead of 1.2 V. Then the voltage was reduced to 1017 mV, and it did not stop the GPU from passing all the tests at 1600 MHz.  But already with the voltage on the core of 1060 mV testing the video card could not pass.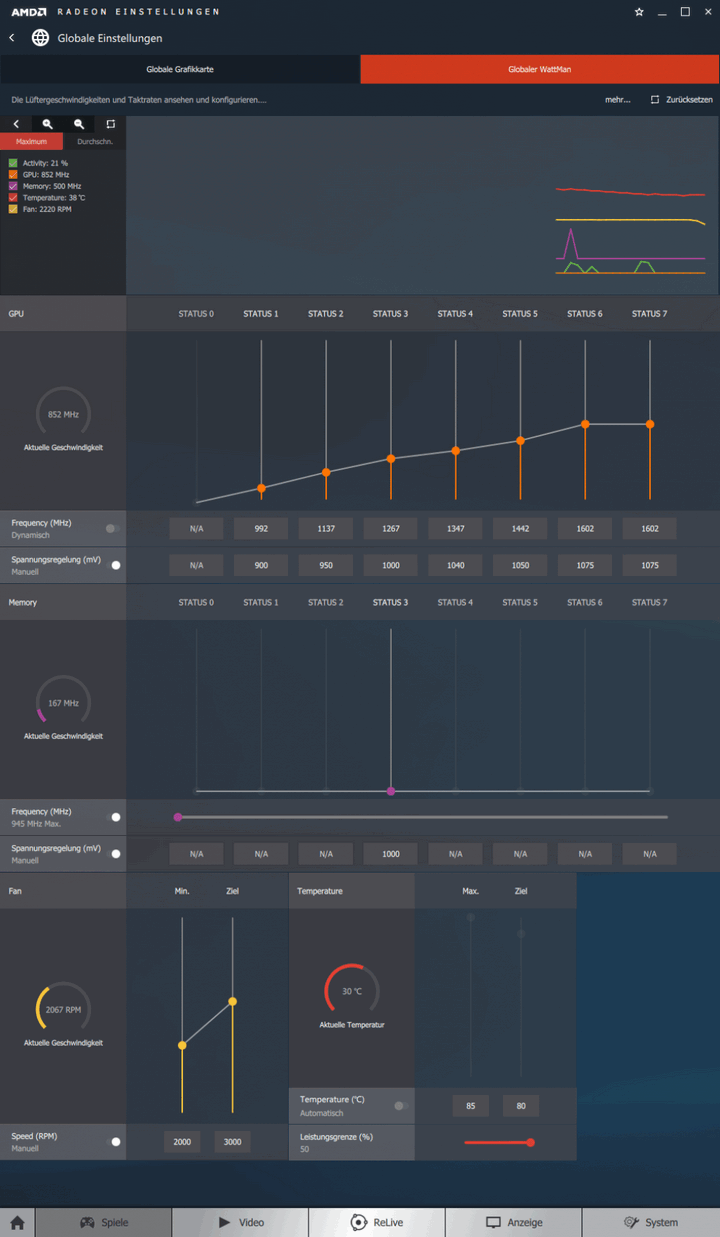 As for power consumption, here the video card Radeon Vega Frontier Edition "bypasses" competitors from NVIDIA, that  consumes a little more.  However, AMD still worked on the bugs, and now when several different monitors are connected, the power consumption grows insignificantly.  In general, under load, the graphics card consumes about 250 watts, while the NVIDIA flagship consumes about 230 watts.  

Another very interesting point is the relatively low noise level.  So, under load, the noise was 3.6 sones, while the Titan X (Pascal) under maximum load "made noise" at all 4.9 sones.


Related Products :