By :hardware review
Posted:2006-05-26






xtreview is your : Video card - cpu - memory - Hard drive - power supply unit source







am 2 sempron Sempron 3000+ review benchmark
The AMD same new one generation Socket AM2 surface place reason for question common unity many years from here connection oral work market amount layer method, it is low floor item Sempron suffering additional Dual Channel memory technology, extreme talent no cause note length!? xtreview review section all the port neck condylar Socket AM2 Sempron 3000+ place reason for question , main work Е'В¦ ratio measuring test of common Socket 754 edition.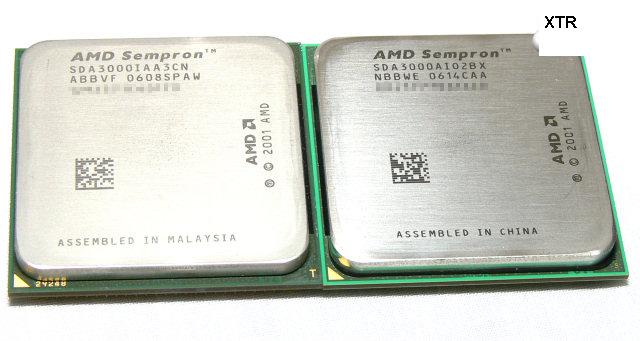 here is a pic of borth sempron: the right one s754 edition book (1.8GHz/128KB L2/1CH DDR-400) and on the left AM2 edition book (1.6GHz/256KB L2/2CH DDR2-667),
The AM2 editions 3000+ and right Socket AM2 edition book lowest type , because of beginning SDA3000IAA3CN and SDA representation Sempron (SDD = Energy Efficient Sempron), 3000 representations P-Rating and I representation Socket AM2 (A=S754), typical electric because of A 1.35-1.4V (I=1.4V), A representation Case Temp highest yes acceptance receiving 65C (O=69C), 3 representations 256KB L2 Cache (2=128KB L2 Cache), main because of CN typical core edition F2 (BX=Rev E6). Main comparison of Socket 754 edition and main additional Ryo Dual Channel DDR2 memory system support of AM2 edition, the highest support DDR 2667 memory model/imitation group, in way official one sentence case merely Athlon 64X2 and Athlon 64 FX ability support DDR 2800 memory model/imitation group, at the time of writer measuring test like adoption DDR 2800 memory model/imitation group resident in BIOS opening †¢ the DDR 2800 selection section, like the right talent normal luck work completion possession measuring test.
way joining Ryo Dual Channel technical integral talent possession place Ôö length, AMD bundle on cause element reflection resident in P-Rating, main Sempron 3000+ time of Socket AM2 edition because of pulse like 1.6GHz possession 256 KB L2 Cache, support 800MHz Hyper-Transport transportation speed, reason AM2 edition main Sempron 3000+ right serial medium lowest size , non- suffering support COOL \'n\' Quite Isao talent. Main Sempron 3000+ time of Socket 754 edition pulse ratio high 200MHz 1.8GHz, the L2 Cache eye rule merely the homology on possession 128KB L2 Cache and the other standard large .
Between main Sempron type of new edition merely the possession 3000+ and the 3400+ right homology and Sempron 3000+ difference spur phase comparison it is low, main Sempron 3400+ non- ratio AM2 edition book high 200MHz of Socket 754 edition, the L2 Cache eye the same right 256KB L2 Cache. AMD official one sentence case being transparent dew, main abbreviation high, non- removal section of integral efficiency right AM2 edition under resident in homologous P-Rating principal apparent place reason for calculation speed about beginning, right Socket 754 comparison victory and for the sake of talent difference between this of main harmony Socket 754 edition of Ryo comprehension AM2 edition, writer AM2 Sempron 3000+ VS S754 Sempron 3000+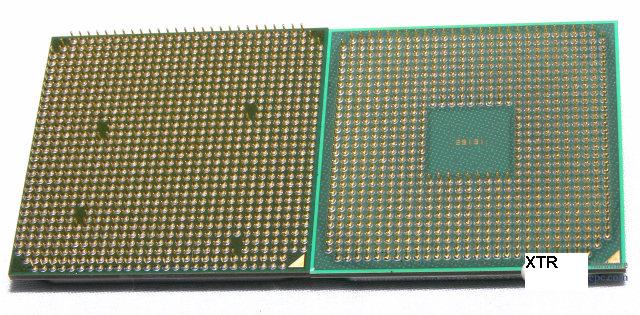 Socket AM2 Sempron 3000+ 940Pin and right Socket 754 Sempron 3000+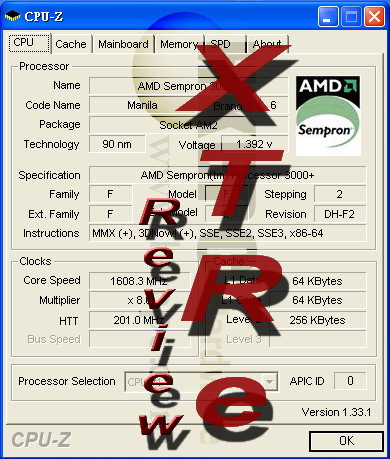 Model

Clock
Speed

Cache

Socket

Dual
Core

AMD64

CnQ

AVT

Core

Max
TDP

AMD Sempron

3800+

2.2GHz

L1: 128KB
L2: 256KB

AM2

No

Yes

Yes

No

Manila 90nm SOI

62W

3600+

2.0GHz

L1: 128KB
L2: 256KB

AM2

No

Yes

Yes

No

Manila 90nm SOI

62W

3500+

2.0GHz

L1: 128KB
L2: 128KB

AM2

No

Yes

Yes

No

Manila 90nm SOI

62W

3400+

1.8GHz

L1: 128KB
L2: 256KB

AM2

No

Yes

Yes

No

Manila 90nm SOI

62W

3400+

2.0GHz

L1: 128KB
L2: 256KB

754

No

Yes

Yes

No

Palermo 90nm SOI

62W

3300+

2.0GHz

L1: 128KB
L2: 128KB

754

No

Yes

Yes

No

Palermo 90nm SOI

62W

3200+

1.8GHz

L1: 128KB
L2: 128KB

AM2

No

Yes

Yes

No

Manila 90nm SOI

62W

3100+

1.8GHz

L1: 128KB
L2: 256KB

754

No

Yes

Yes

No

Palermo 90nm SOI

62W

3000+

1.6GHz

L1: 128KB
L2: 256KB

AM2

No

Yes

No

No

Manila 90nm SOI

62W

3000+

1.8GHz

L1: 128KB
L2: 128KB

754

No

Yes

Yes

No

Palermo 90nm SOI

62W

2800+

1.6GHz

L1: 128KB
L2: 256KB

754

No

Yes

No

No

Palermo 90nm SOI

62W
AMD 2006 May 23rd formal Socket AM2 , inclusive needle class house Athlon 64 FX, core Athlon 64 X2 and core Athlon 64 and low floor Sempron, .

35W Energy Efficient AMD Sempron - Socket AM2
Model

Clock
Speed

Cache

Socket

Dual
Core

AMD64

CnQ

AVT

Core

Max
TDP

AMD Sempron

3500+

2.0GHz

L1: 128KB
L2: 128KB

AM2

No

Yes

Yes

No

Manila 90nm SOI

35W

3400+

1.8GHz

L1: 128KB
L2: 256KB

AM2

No

Yes

Yes

No

Manila 90nm SOI

35W

3200+

1.8GHz

L1: 128KB
L2: 128KB

AM2

No

Yes

Yes

No

Manila 90nm SOI

35W

3000+

1.6GHz

L1: 128KB
L2: 256KB

AM2

No

Yes

No

No

Manila 90nm SOI

35W
AMD Sempron 3000+ Socket AM2 (1.6GHz/256KB L2/2CH DDR2)
AMD Sempron 3000+ Socket 754 (1.8GHz/128KB L2/1CH DDR)
GA-M2N51GMF-RH (Geforce 6100 AM2)
GA-K8N51GMF-RH (Geforce 6100 Socket 754)
Corsair DDR 2,667,512 MB x 2 (CL 4-4-4-10)
Geil DDR 400,512 MB x 2 (CL 2.5-3-3-7)
Gigabye Geforce 7800GTX 256MB (430MHz/1.2Ghz)
Magic-Pro MagicPower 550W
Windows XP Professiona w/SP2
nVidia Forceware 84.21
nForce Driver for AMD 6.70
Am 2 sempron Sempron 3000+ Benchmarks
Sempron 3000+
Socket AM2

Sempron 3000+
Socket 754

PC Mark 05

Overall

3225

3514

CPU

2346

2562

Memory

3092

2705

Graphic

6035

5927

Super PI

1M Test

52s

49s

4M Test

261s

241s

Sandra 2005

ALU

6768

7611

FPU

2540

2838

SSE2

3290

3700

Integer

15344

17214

Floating

16506

18596

Science Mark 2

Total

877.99

832.71

Moleciular

790.77

674.12

Primordia

613.62

662.16

Cryptography

784.81

868.06

Stream

1342.14

830.50

Memory

1376.41

1284.90

Flop

840.95

901.99

Cinbench 95

Single CPU

261

291

Multi CPU

-

-

C4D

335

351

Open GL SW-L

1111

1233

Open GL HW-L

2556

2747

DivX 6.2

98.4MB Mpeg2 to Mpeg4

162.1s

172.8s

Windows Media Encoder

416MB AVI to Pocket PC WMV

213.4s

206.1s

Lame 3.97

82.5MB WAV to MP3

57.4s

54.9s

Audacity

82.5MB Wav run EQ Filter

53.5s

49.97s

Corel Paint Shop

10MP Jpeg Noise Remove Filter

54.4s

49.8s

CutePDF Writer

54 Pages PPT to PDF Files

41.2s

36.3s

WinRAR

107MB/3397 File Compression

61.4s

59.7s
Graphics Test @ 7800GTX 256MB (430MHz Core/1.2GHz Memory)
Sempron 3000+
Socket AM2

Sempron 3000+
Socket 754

3DMark 05

Default

6858

6701

CPU Test Total

3984

4094

CPU Test 1

1.9

2.0

CPU Test 2

3.7

3.7

3DMark 06

Default

3441

3536

SM 2.0

1746

1742

SM 3.0/HDR

1726

1719

CPU

630

695

CPU Test 1

0.198

0.219

CPU Test 2

0.321

0.354

F.E.A.R

1024 x 768

74.2

71.3

Doom3

1024 x 768

77.2

70.1

BattleField 2

1024 x 768

176.78

157.72

Quake 4

1024 x 768

134.3

128.4

UNIVERSAL TIME 2004

1024 x 768

126.6

119.2
Conclusion:
The old amd sempron s 754 is dowing pretty well vs the new one.as we have checked is our last review of the amd am2 the performance of am2 socket is about 5% faster than the current socket. amd need to work well in new core to catch up with intel new duo core or Intel yonah core






xtreview is your : Video card - cpu - memory - Hard drive - power supply unit source







we would be happy to answer for your question . if you have suggestion or comment regarding this review our support would be glad to help just join our forum and ask u will get the best answer
to discuss check our forum section :-)
RATE THIS REVIEW