In full accordance with the information received earlier yesterday, details on Microsoft's new Microsoft Project Scorpio console have been published, which will go on sale later this year.  The console will really save the processor with 8 compute x86-compatible cores (apparently it will be all the same Jaguar cores).  However, the clock frequency of the cores will be increased from 1.6 GHz to 2.3 GHz.  But significant changes will undergo a graphic system.  It can even get the elements of architecture developed for the GPU generation of Polaris or even Vega, but at this point there are no details yet.
Instead of 8 GB of DDR3 memory with a 256-bit bus, the system will have 12 GB of GDDR5 memory with a 384-bit bus (for the user, the available capacity is limited to 8 GB).  This will remove the 32MB eSRAM block from the processor chip, which served as a cache buffer to speed up the memory system, but required developers to optimize the games.  Now, writing code for the console will be easier, although the requirement to keep compatibility with Xbox One can make life hard for programmers,.  The changes introduced to the platform will increase the bandwidth of memory access from 68.3 GB / s to 326 GB / s.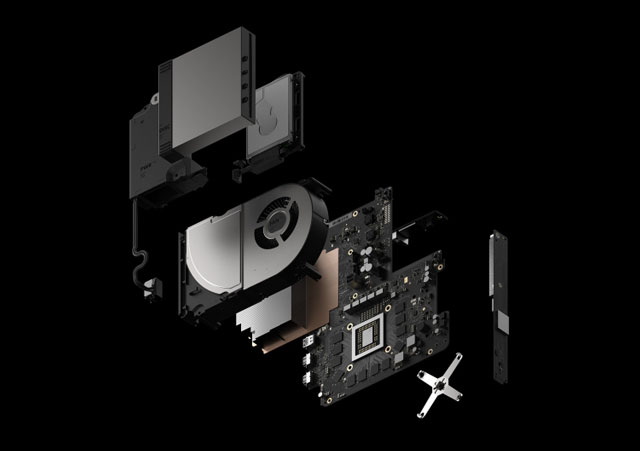 Graphics processor assembly for Project Scorpio, as already mentioned above, has undergone significant changes.  The number of computational blocks of the video core is increased from 16 to 40 with the clock speed rising from 853 MHz to 1172 MHz.  The number of shader units is planned to be doubled, which, together with other improvements, will give a 2.7-fold increase in processing performance for triangles and vertices.  The capacity of the cache memory of the graphics core has also been increased fourfold.  All this together will lead to the fact that games with a resolution of 4K on the new Microsoft console will be pleasing to the eye.
Judging by the data given, the Project Scorpio console will become more compact.  To cool the processor assembly, the company will apply the evaporation chamber with high efficiency.  The console also includes an optical drive with support for the standard 4K UHD Blu-ray.  To record data, there is a 2.5-inch hard disk with a capacity of 1 TB.

 


Related Products :