More in January at CES 2015 ADATA company  demonstrated prototypes of SSD-drives on the new controller Silicon Motion (SMI) SM2256 and memory TLC NAND - the main aim is to further reduce the price level.  
And now, a few hours ago, ADATA has published the specifications of the product and its new name - Premier SP550.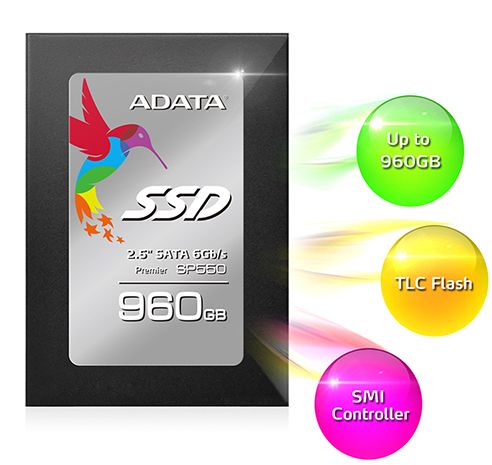 Specifications are generally similar to those voiced in January:
Controller Silicon Motion SM2256;
Untitled TLC NAND;
SATA3 interface and form factor of 2.5 "7mm;
Speed of linear reading and writing reach 560 and 510 MB / s (120 GB - 410 MB / s), respectively.
There are two points.  In the first, initially said the release of 960 GB volume version accompanying illustrations also contain information on such amount, but the published specifications listed only 120, 240 and 480 GB.

 Secondly, the company said about the existence of the algorithm SLC-caching - the same one that has long been familiar to us for the drives controllers OCZ Indilinx, Samsung and Marvell.  

Application of TLC NAND, according to ADATA, should not scare potential buyers, as  applied a broad set of different algorithms for data protection.  


Related Products :