Sales of the console Xbox One S began a few days ago, on August 2, and iFixit experts have already managed to make out the novelty and evaluate its rich inner life suitability for repair.  Looking ahead the new console maintainability experts estimated 8 out of 10 points, which is a very high rating.  Also note that the experts found a few differences from the original Xbox One, in addition to the previously voiced.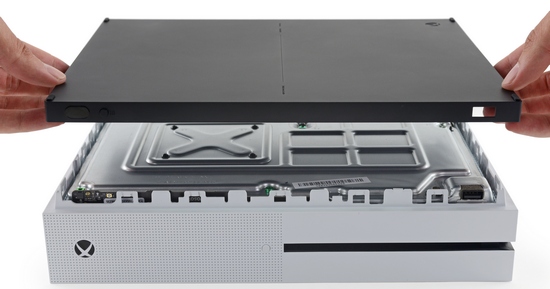 iFixit experts noted that despite the fact that the Xbox One S has become 40% more compact than the original Xbox One, disassemble and repair the novelty lighter than its predecessor.  Also, replace the hard disk, motherboard with wireless interfaces, the cooling system thanks to modular design (or the fan itself), and other components of the new items will not be hard, and no special tools are required.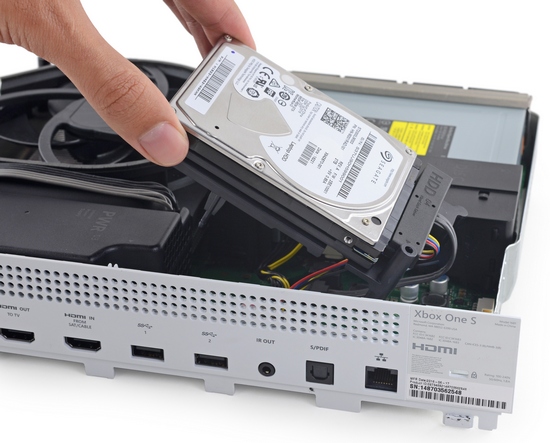 So far, the Xbox One S is available in a version with 2 TB of memory.  The novelty used hard drive Seagate Spinpoint M9T (ST2000LM003) with rotation speed of 5400 r/ min, 32 MB cache and interface SATA 3.0, while the Xbox One used hard drives smaller volume, and SATA 2.0 interface.  It is important to note that the replacement of the hard disk the user still leads to loss of warranty.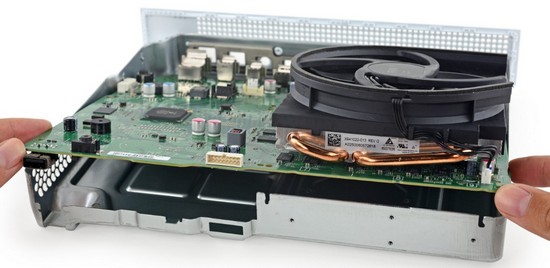 Xbox One S got a built-in power supply, making its replacement in case of damage a little more complex operation than in the case of an external power supply from the Xbox One.  By the way, the power supply is connected to the system via a standard 6-pin connector as the video cards.  Also, the novelty has received the USB port on the front panel, and HDMI 1.4 port is replaced with the newer HDMI 2.0a, which supports output video in 4K resolution (3840 x 2160 pixels) at 60 cd / s.  More Xbox One S has a new controller with a longer range communication, textured handles and supports Bluetooth.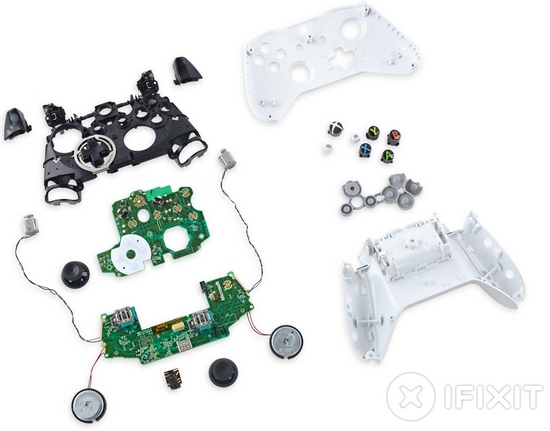 The cooling system consists of a compact console radiator with a pair of heat pipes, installed on top of it and 120 mm fan.  Inside is located an 8-core AMD Jaguar CPU with a frequency of 1.75 GHz and overclocked to 914 MHz graphics AMD Radeon (in Xbox One graphics frequency is 853 MHz).  Next to the CPU are located DDR3 memory chips from Samsung (16 pieces for 4 Gbps, only 8 GB, marked in orange), and a little farther eMMC NAND memory from Toshiba (indicated by green).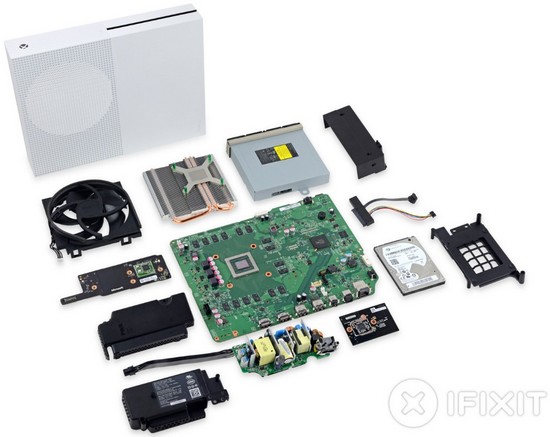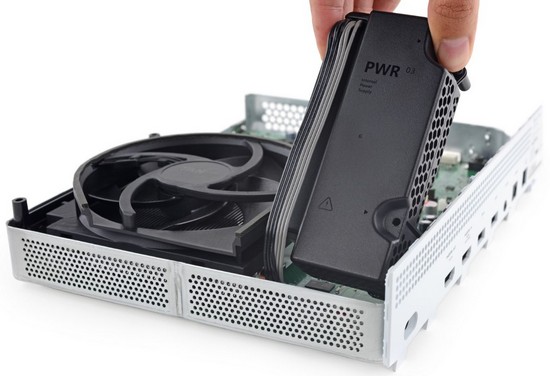 Related Products :